Disclosure: I received this product in exchange for a post. The opinions are all 100% my own and may differ from yours. 
Do you love the Care Bears? Have any of you ever seen the Care Bears & Cousins videos? My daughters are such huge fans of the Care Bears. I always loved them when I was growing up as well. I still love watching them with my girls too. It's always been a fun show to watch and I love how caring they are. It helps show children how they should be around others.
PROGRAM DESCRIPTION
The lovable Care BearsTM and their kindhearted cousins return for more adventures in Care Bears & Cousins: BFFs – Volume 2, arriving on DVD and Digital HD March 7 from Lionsgate. Consisting of six episodes from the all-new series, this installment follows the Care Bears as they teach children important lessons through their exciting journeys in the magical land of Care-a-Lot. With hours of adorable entertainment, the Care Bears & Cousins: BFFs – Volume 2 DVD will be available for the suggested retail price of $14.98.
OFFICIAL SYNOPSIS
Join the Care Bears in Care-a-Lot where friendship is in full bloom! The Care Bears and their Cousins discover that best friends are forever in these sweet and smile-raising adventures. Whether they're trying to help Brave Heart have the awesomest day ever, caring for an injured Grumpy or learning valuable lessons about jealousy and the importance of keeping promises, the Care Bears and their Cousins fill every moment with caring, sharing and fun!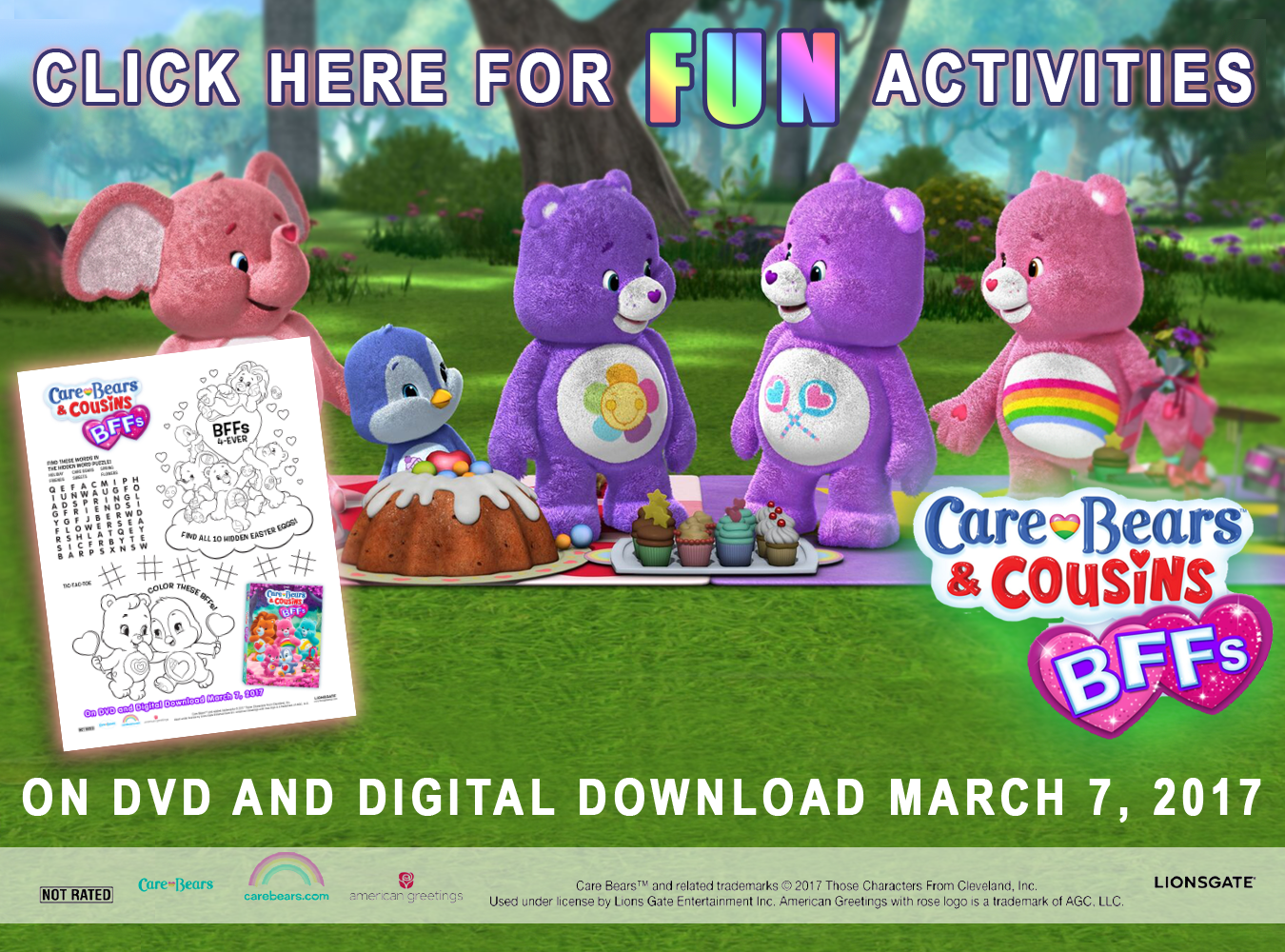 I hope that you'll be able to pick up your own copy on March 7th. My family and I love the Care Bears, so we are always excited to watch these movies. You can also get some of the fun activities with Care Bears by clicking on the photo above. They have some great activities for kids there. My girls already love them!