~I received compensation for this sponsored post, however my opinions are my own~
Indulge without the Guilt! Yoplait Whips Dessert Recipes and Giveaway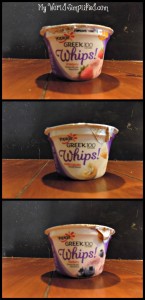 My kids are always wanting something sweet for dessert after dinner. I used to be able to get away with just tossing them an apple every other day. Now they want something better than just fruit. Yoplait has made my job easier and their desserts healthier. Bonus!!! So here is the Yoplait Whips Dessert Recipes and Giveaway!
Indulge WITHOUT the guilt!
Yoplait has a new Geek 100 Whips yogurt out! They are fabulous alone but I figured I could make them into some great desserts! They are so fluffy and light you would swear your eating a container of whipped cream! The Vanilla Cupcake flavored one could be used in place of whipped cream. We even at them with our lunch and dipped fruit in it. YUMMY
A Yummy Lite Snack Without the Guilt
Want something even better? You can get one #free at Publix for a limited time! You can try the fabulousness at NO cost! I always tease my kids that free tastes better! Get the Coupon HERE

Indulge in Dessert
The first dessert I made was a Blueberry Parfait. My kids thought they had lots of yummy flavored whipped cream in it. They even commented on how they like the extra sweetness in it! And it wasn't whipped cream but the Blueberry Yoplait Greek Whip. I added the recipe below.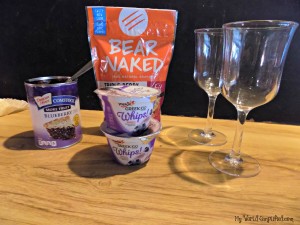 Mhmm Blueberry
Next I made up some vanilla cupcakes and again fooled the kids with my whipped topping icing, which was only The Vanilla Cupcake Yoplait. I did mix a little blueberry pie filling with a container of Yoplait Blueberry Greek Whip and put that in the center for a yummy filled cupcake! Those went to fast! The recipe is also below.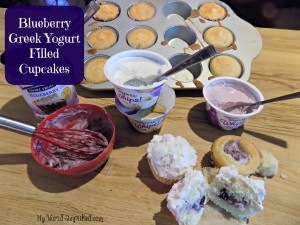 Oh My Strawberry
Then I decided my husband would probably benefit from something besides ice cream for dessert. I whipped him up a Greek Yogurt Strawberry Freezer Pie. There was enough of the filling left for me to even make a couple Poor Man Cookies too! Just spread the leftover filling in between graham crackers and freeze.
Enter the Indulge in Dessert Giveaway
Yoplait wants you to try their new Greek Whips and the recipes above so they are giving away $15 PayPal cash. To be entered in the giveaway fill in the Rafflecopter form below.